ABOUT
The Butchery started back in 1985. Since then we have turned into a successful business with a loyal fan base.
Quality and service are what sets us apart from grocery stores.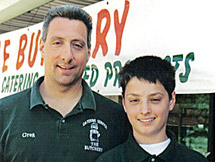 At The Butchery, each customer gets personalized attention. We take the time to know each persons needs and how we can accomodate them. Our loyal customers come back monthly, weekly and even daily.
Our prices are consistant and fair. They are either the same as the supermarkets or lower.
When you visit The Butchery, you are guaranteed the best quality, experience and personalized service.